SPECIAL DEALS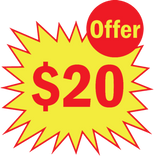 Take advantage of our 10-hour courses for only $69! This limited-time offer can be availed by applying the discount code 20OFFSTARS during checkout.
SafeGard Classes Online has many options to help you stretch your training dollars, from specially-priced bundled packages to discounts for Head Start professionals, and even a free class to let you take a test drive.  Check our our Discounted Packages to help you meet your state's annual in-service continuing education hours.
We can also arrange consolidated monthly billing, purchase orders, bulk purchases, payment plans, or other arrangements as needed.   Your learning is our priority--let us know how we can help you!
Our online healthcare classes can be a great addition to a healthcare education program as well.  Contact us today and we can create a process specific to your students needs.
Has anyone told you how Awesome you are?! We Love our Teachers and Educators!!
Let's keep the momentum going!  Here are some great offers to get you a step above.:
1. Get $20 off any 10-hour STARS package with discount code 20OFFSTARS
2. Get 20% off any Discounted State Package with discount code 20offState
3. Earn your CDA with these offers: $249 for any 120-hr classes package (discount code 50offCDA) or $119 for 45-hr renewal package (discount code 50offRenew).
Check our website regularly for special deals or contact us at [email protected] for more information.