How to determine to right time to reopen during COVID
To say we are living in uncertain times would be the understatement of the century.  Business as usual is anything but usual.  Making decisions about how and when to open your childcare program takes very thoughtful consideration about the safety of your staff, your children and your community.  No matter the level of transmission in a community, every childcare program should have a plan in place to protect staff, children, and their families from the spread of COVID-19.
Unfortunately, there is no easy answer or universal guidance that fits every situation but there are many things we can do to ensure our decisions and actions are sound.  Most importantly, all decisions must be made in collaboration and accordance with local and state regulations and requirements. 
Deciding When to Open
Decisions about implementing strategies for early care and education (e.g., dismissals, event cancellations, other social distancing measures) should be made locally, in collaboration with local health officials who can help determine the level of transmission in the community.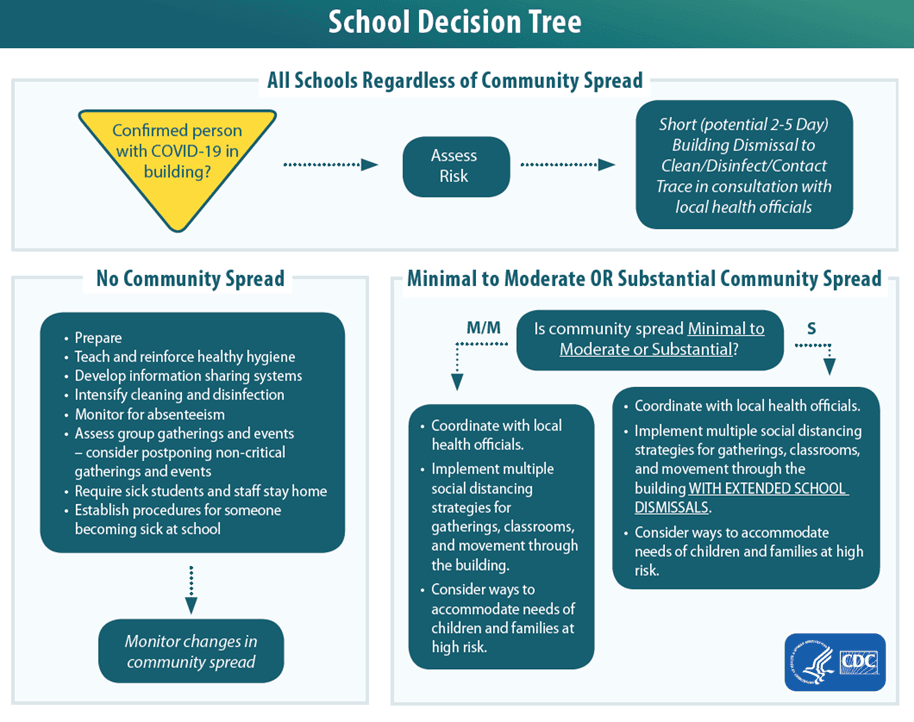 While children don't appear to be at high risk for COVID, studies have suggested they can be asymptomatic carries of the virus, meaning they may not show any symptoms but can still pass the virus on to other more vulnerable members of their families. 
Also, experts have identified a potential link between the coronavirus and Kawasaki disease, a rare childhood syndrome that can make children critically ill. As such, preschools or childcare centers that open their doors to the wider community should be incorporating a number of new protocols.
Ensuring your program is able to accommodate the new health and safety guidance is critical before considering reopening.  The CDC recommends childcare programs that are open during the COVID-19 pandemic should address these additional considerations:
Implement social distancing strategies
Intensify cleaning and disinfection efforts
Modify drop off and pick up procedures
Implement screening procedures up arrival
Maintain an adequate ratio of staff to children to ensure safety. Plan ahead and recruit those with childcare experience to ensure you have a roster of substitute caregivers who can fill in if your staff members are sick or stay home to care for sick family members.
When feasible, staff members and older children should wear face coverings within the facility. Cloth face coverings should NOT be put on babies and children under age two because of the danger of suffocation.
Some schools, child care programs, and service organizations are supporting their communities by providing temporary or emergency child care services for the children of essential service providers such as first responders, healthcare workers, transit or food retail workers, and persons who do not have paid leave, cannot work from home, or do not have a family caregiver at home.
If you re-purpose your school or service facility as an emergency or temporary child care center, please follow CDC guidance for administrators of child care programs and K-12 schools.
Be sure to follow state and local child care licensing policies and regulations. Specifically, all facilities should continue to adhere to their state and local licensing policies unless otherwise notified by their local health department.
Guidance may also be provided by the department of education and/or health department in your state, city, or locality.
We know this is a challenging time for everyone and the safety and well-being of anyone in our care is paramount to us all.  While it may seem overwhelming at times, we hope this information provides some sense of comfort and relief to know how to deal with this unprecedented situation.  Just remember, we are all in this together.