5 Great Reasons to Earn Your CDA Today!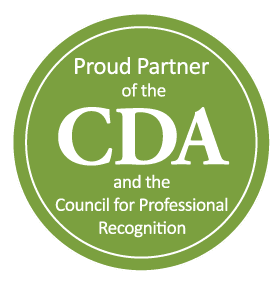 The Council for Professional Recognition, commonly known as the CDA Council, administers the Child Development Associate® (CDA) Credential.  Here is a great introduction to the Council and the CDA from their website at www.cdacouncil.org:
Mission of the Council
The Council for Professional Recognition promotes improved performance and recognition of professionals in the early childhood education of children aged birth to 5 years old.
Vision of the Council
The Council works to ensure that all professional early childhood educators and caregivers meet the developmental, emotional, and educational needs of our nation's youngest children.
The Child Development Associate® (CDA) Credential
In keeping with its goal to meet the growing need for qualified early child care and education staff, the Council administers the Child Development Associate® (CDA) National Credentialing Program. The CDA Program is designed to assess and credential early childhood education professionals.
The Council recognizes and credentials professionals who work in all types of early care and education programs - Head Start, pre-k, infant-toddler, family child care, and home visitor programs.
The Council sets policies and procedures for assessment and credentialing, publishes the Competency Standards and other materials used for CDA credentialing, and administers the assessment.
In the early 1970s, a group of innovative early childhood educators gathered together to think about how to improve the quality of early care and education. The concept for the CDA Credential was born out of those meetings and was initially funded by what was then called the U.S. Department of Health, Education, and Welfare, Administration on Children, Youth, and Families (ACYF). After several years of development, the first CDA was awarded in 1975.
In 1985, ACYF entered into a cooperative agreement with the National Association for the Education of Young Children (NAEYC) for the purpose of creating a separate nonprofit organization to administer the CDA Credential. That organization, the Council for Professional Recognition, began administering the CDA on September 1, 1985.
More than 370,000 CDA credentials have been awarded to date, with approximately 18,000 early childhood professionals becoming new CDAs annually.
What are the benefits of earning a CDA?
The Child Development Associate® (CDA) Credential is the most widely recognized credential in early childhood education (ECE) and is a key stepping stone on the path of career advancement in ECE.
SafeGard Classes Online recently partnered with the Council to better support CDA candidates in earning their credentials.  This partnership assures you of getting the right level of support as you pursue your CDA.
What does this mean for you?
Advance your career – this added level of education could open doors and take you to the next step in your career path! Many jobs are requiring advanced education so you'll be one step ahead!  You may also be eligible to receive college credits by earning your CDA.
Earn more money – who wouldn't like to earn more money? With additional career opportunities, your earning power will continue to grow!
Gain more confidence – knowing more about the early learning field can certainly help make you feel more confident working with children as well as speaking with parents, which can help put parents' minds at ease too!
Increase your knowledge – in such a broad and complex field, the learning never stops, from developmentally appropriate practice to good nutrition. And what could be more important than teaching tomorrow's leaders!
Great pricing from SafeGard Classes Online – there's never been a better time to start your CDA! For a limited time, SafeGard Classes Online is offering special pricing of just $349 for the full 120-hour initial CDA package.  Or, if you've already earned your CDA and need to renew, our 45-hour package is only $149!  We also offer a support package that provides a personal mentor to guide you step-by-step through the process.
Many teachers find that having earned their CDA actually makes them a better teacher.  Watch this inspiring video about several teachers' experience with the CDA.
So, what are you waiting for?  Get started today!
"Do something today that your future self will thank you for."
Resources:
Fun facts:
March
Dr. Suess' birthday (Read Across America Day)
St Patrick's Day – 17th
Fire Prevention Month
National Nutrition Month
April
Autism Awareness Day – 2nd
April Fool's Day – 1st 
Humor Month (no joke!)
Mathematics Awareness Month
Earth Day – 22nd
May
Teacher Appreciation Day – 3rd
Arbor Day – last Friday in May
We Care, Because You Do!